For the past several years I have been investigating the phenomena of vortex motion. The intricate layers of in-winding that occur in certain kinds of vortex flow fascinate me, and lead me to explore the possibility of an underlying principle of motion that leads to large-scale forms.
Further work into vortex motion requires the construction of special vessels for research and expertise in several field relating to fluid dynamics. It is my plan to organize a team of such expertise to apply for funding to conduct research. The timeline for work to occur is thus not likely to see any physical manifestation within the timeline of the Spring 2005 semester. The bulk of the work performed would be in documentation of research foundations.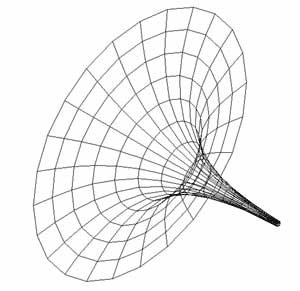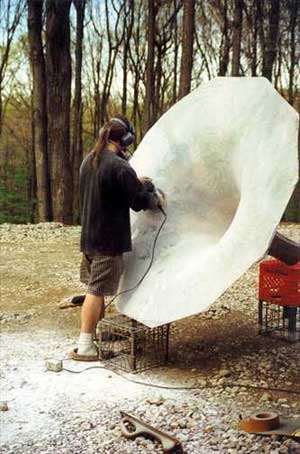 My initial work into creating this form was to tackle the challenge of manufacturing the shape. My target was a hyperbolic form, which was suggested to be optimal both by historical results from others as well as an intuitive sense of the vortex shape. I modeled the form in a CAD application, and used the model faces to layout a 1/12 radius flat shape that was properly proportionate. I then printed this out to-scale as a template for cutting sheet metal, along with two wooden jigs that would be used to hold two pieces of sheet metal in the appropriate curvature while they are welded together. All materials were sent to a fabrication shop, who implemented the work well. The completed form was brought back to my studio where putty was built up on the inside and then sanded down to the desired smoothness. The final stages of this work was done by a local auto mechanic, who was quite skilled at such body work.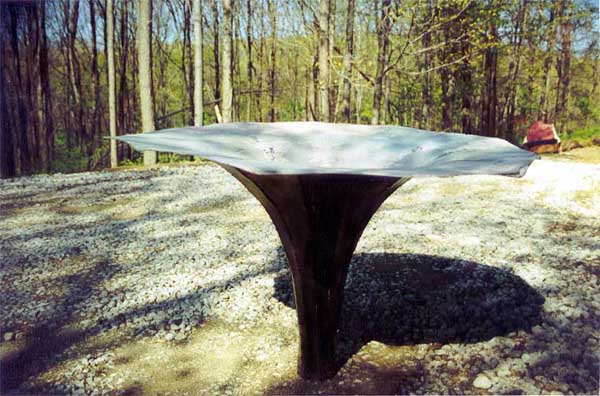 The following symbol is a personal sketch of the Maya universal creative form, Hunab-ku. From its name is derived the word "hurica'an," which is the origins of our word "hurricane."